Midori and I had halfheartedly talked a few times about buying a van, but really it was the pandemic that pulled the trigger for us. We had everything prepped and planned to go for a long backpacking trip in South America when all of a sudden everything came to a screeching halt. After handing in my two weeks notice, my last day in the office turned out to be everyone's last day in the office.
Somewhere during the next month, in May, we decided we were going to buy a van and convert it into a camper. Not just a camper that we'd want to take out on long weekends, but one that we could full-on live in. We saw it as a enabler of a certain type of slower lifestyle, away from the bright lights and ever increasing rent of the growing urban metropolises. Online communities and forums inspired us to think bigger, planning road trips to Europe or South America. But first we had to find a van that fit our needs during the midst of a pandemic, and we weren't the only ones with this bright idea. We decided to head to the east coast where there was more space and less competition. There, we would purchase the van and post up at the family farm in North Carolina to get to work.

The Purchase
Of the three types of cargo vans on the market (Mercedes/Freightliner Sprinter, Ram Promaster, Ford Transit) to go with the Ford Transit with an extended wheelbase. The extended wheelbase gives you enough room to add a shower and a toilet without taking up all the space. We liked the short wheelbase (relative to the Sprinter) but with ample interior space — I haven't even curbed it yet!
It took us two weeks to find a few Transits that we liked, and even then we felt rushed into a purchase as there just weren't many on the market. In addition to the normal users (freighters, electricians, etc.) the market was saturated with, well, people like us.
At a used car dealer with about 10 parking spots to his name in Johnson City, Tennessee, we ended up finding a 2019 model with 24,000 miles on. We decided to spend more money for lower miles since we knew we would be putting in a lot of work outfitting and wanted to give him the longest life possible.
The office was overwhelmingly orange, but the Tennessee Vols paraphernalia in his office sure did bring back memories of watching football and going to a game or two in Knoxville. After some negotiating and almost driving all the way to Missouri to check out a different van, we drove off the lot with a nice looking cargo van: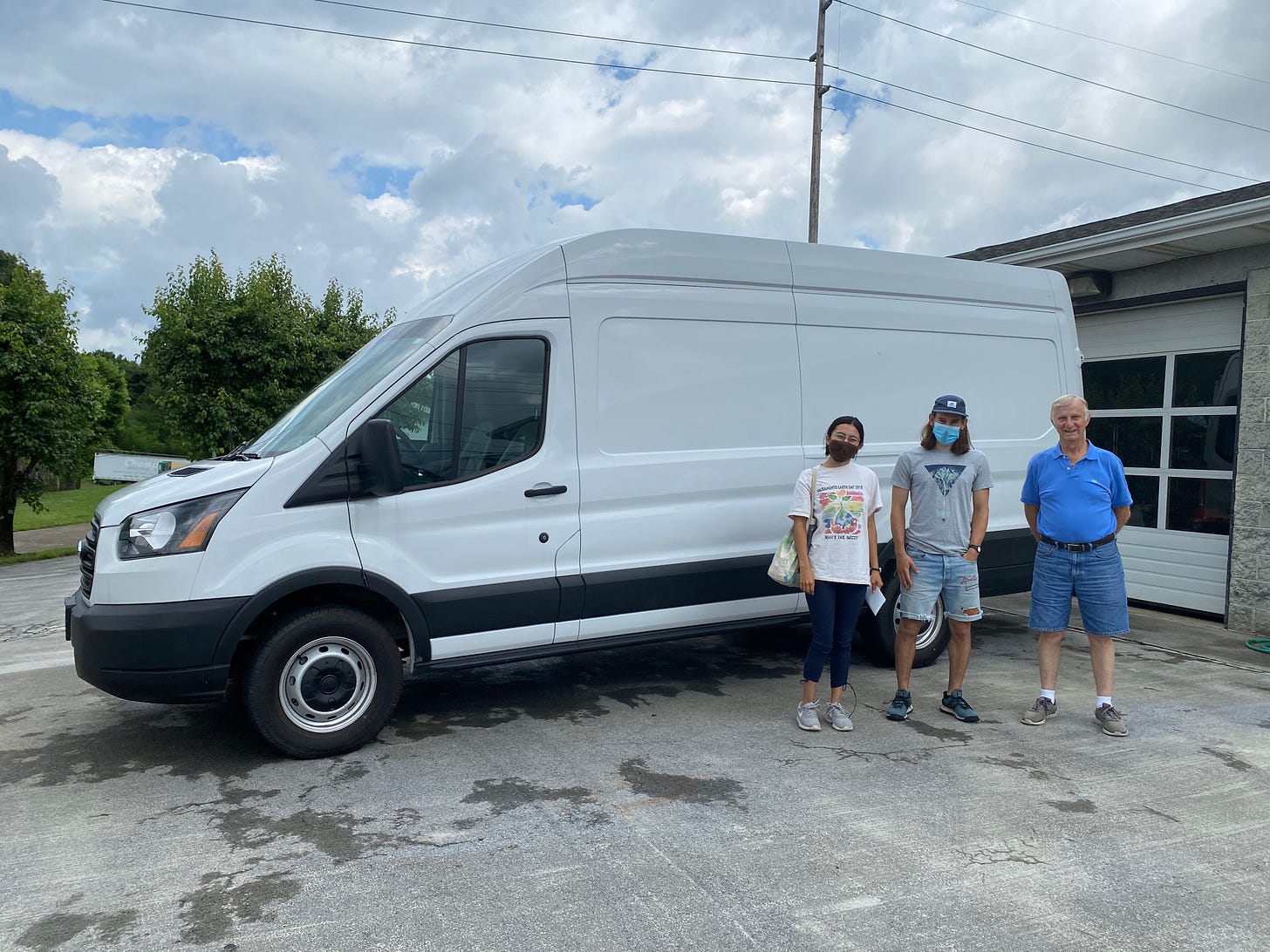 The Layout
I started to dream about layouts, systems, intricate designs. In fact I had been dreaming about systems for a few months by now. The cargo van is such a blank canvas and the imagination starts to run wild with ideas. I was excited to learn fine woodworking, hardwood flooring, plumbing, and off-grid electrical systems. But the first thing we had to decide was our requirements and the layout.
To make it livable we decided we needed running water, heat, a shower and a toilet. Since we wanted it to be an open space we decided to put the shower in the back. The rest of the back would be a mud-room like area where you could wash off without getting everything else dirty.
We also wanted a partition wall blocking off the cab for 1) privacy and 2) insulation. The hope was that we'd just look like a utility van from the outside to avoid attracting unnecessary attention. (This was probably wishful thinking though with a fan and solar panels sticking out).
There are two types of beds that people build, either a fixed bed that is pretty much always made, or a convertible bed that usually turns into some sort of seating arrangement. We opted for the convertible bed to maximize the best use of space. Below is one of the first drafts, near to what we settled on. I will touch on electrical and water systems later, since the placement of the sink, shower, and water tank were also considerations in the layout.
To make the most use of the space, we were inspired by traditional Japanese rooms covered with tatami floors, a material made of woven rice straw. The floor is forgiving enough to sit on with a light cushion, and each night a foldable cotton mattress is laid out to sleep on. In short, we designed a raised tatami floor with a table that pops up for two or three people to sit around.
Somehow by pure luck, we were able to find someone in San Diego that had ordered custom sized tatami panels to fit her bedroom and was trying to get rid of them before moving. It became the first splurge of many that we saw as necessary to create our unique vision — a Japanese Farmhouse inspired van named Totoro.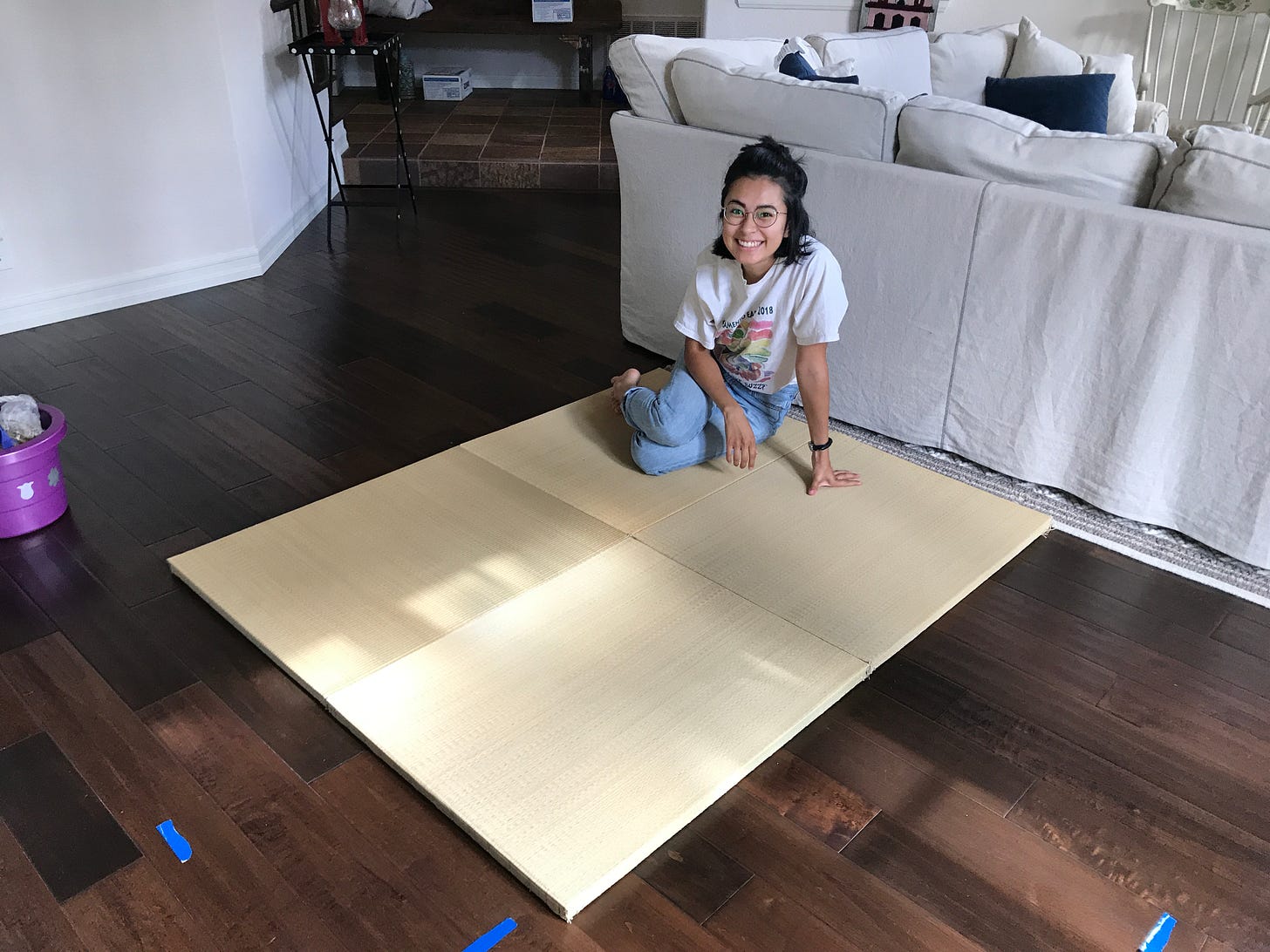 For windows we wanted a large skylight over our tatami floor and a kitchen window. We thought this would be a good trade off between privacy and light, but it would affect the roof layout and the solar system.
The Systems
I wanted to go fully electric, both for the environmental reasons and for the engineering challenge. Going electric has only been made possible in the last 5 years due to the increases in solar cell efficiencies and the decline in battery prices. Practically this means no gas for cooking, so sizing the solar panel and batteries big enough to supply an induction cooktop, but small enough to fit on the top of the van in addition to the fan and skylight.
For heating, although there are electric heating options out there (think a domestic hot water heater plus antifreeze running underneath the floor), there was no system simple enough to plug and play without doing a lot of research, trial and error. The two systems I came across were @vanlifetech and an espar (D5e) hydronic unit (see this medium post). Both systems came in at around $5k, whereas a gas or diesel fueled espar or webasto heater comes in at $1k-$2k — still expensive but enough to swallow to not shiver all night.
After measuring some loads and forecasting some sun rays I ended up sizing for a 600W solar system and 380Ah of Lithium-Iron-Phosphate (LiFePo4) batteries. I dug deep into the battery chemistry as I built my own DIY LiFePo4 batteries which saved me about $1k. As a backup/auxiliary, I installed a charger from the alternator to top off the batteries during long sunless periods. As of writing I still haven't been able to test out the system in-depth, so the results are TBD, but I'll have a more in depth post about the electrical system.
I wanted to mount the water tank underneath the van to maximize interior space. And at the beginning I didn't think we would be doing too much cold weather stuff, although later I would realize it gets below freezing in the desert during peak climbing season…
I found a 20 gallon tank from Class A Customs that fit perfectly under the driver side. I would supplement this with (2) 7 gallon camping jugs underneath the sink for the winter when I'd winterize the tank. The gray tank would go underneath the passenger side and be a bit smaller, and the shower would have it's own small tank and drain plug in the back.
The End of The Beginning
I hoped you like this first post. The road to a successful build is lined with patience and persistence. Many of these systems are still being built as we speak, so feel free to add any comments with advice or resources.
Talk to you soon,
~Spencer